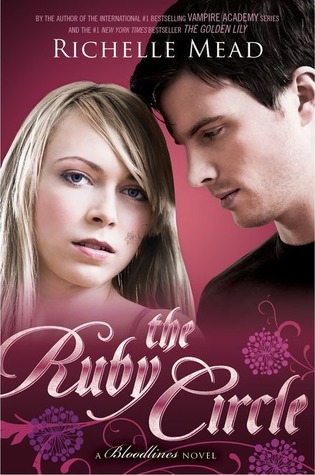 So someone's been bad. Want to take a wild guess? You guessed right! It's me! I'm pretty terrible actually.  I was totally sure that I reviewed this book.  That's why I'm finally posting this review now.  It's only one of my favorite (if not my all time favorite) YA series!!  I apologize to my fellow Sydrian fans.  I guess I delayed it because I was really hoping this book would help the series go out with a bang, but at the same time I was fearing Mead would give it a bitter-sweet and unsatisfying ending, like she tends to do for her series on several occasions.
Summary (from Goodreads):
THEY WILL BE TESTED
Sydney Sage is an Alchemist, one of a group of humans who dabble in magic and serve to bridge the worlds of humans and vampires. They protect vampire secrets – and human lives.
Their forbidden romance exposed, Sydney and Adrian find themselves facing the wrath of both the Alchemists and the Moroi in this electrifying conclusion to Richelle Mead's bestselling Bloodlines series.
When the life of someone they both love is put on the line, Sydney risks everything to hunt down a deadly former nemesis. Meanwhile, she and Adrian becomes enmeshed in a puzzle that could hold the key to a shocking secret about spirit magic, a secret that could shake the entire Moroi world and alter their lives forever.
Don't miss their unforgettable final chapter…
Review:
All in all, I sort of ended this series feeling like no news is good news.  I was really hoping for something more exhilarating, but in the end it felt like more of a fizzle. Without a doubt Books 3 and 4 are the best of the series.  This book didn't feel nearly as special and a few aspects felt like they were on the predictable side.
Sydrian didn't have the same spark that I felt from them in the earlier books.  The characters remain likable and both have grown which is nice to see, but that's about all I can say.
I will definitely miss this series, and though I'm happy for a satisfying ended, at the same time I was left wanting more.  I wasn't into Vampire Academy nearly as much as Bloodlines, and there's clearly an opportunity for another sequel of 6 after this one.  But I don't really think I want to follow those characters as the leads so I can't say for sure if I'll be reading it.
I wanted to do a giveaway for this one and if you guys want it I'll certainly offer one, but I sort of wish it was for a better book.  I like to be really excited about them hoping you'll enjoy them just as much as I did.  But I shall leave it up to you guys!
Loading ...