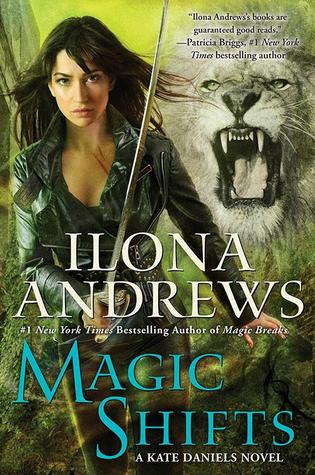 Synopsis
After breaking from life with the Pack, mercenary Kate Daniels and her mate—former Beast Lord Curran Lennart—are adjusting to a very different pace. While they're thrilled to escape all the infighting, Curran misses the constant challenges of leading the shapeshifters.
So when the Pack offers him its stake in the Mercenary Guild, Curran seizes the opportunity—too bad the Guild wants nothing to do with him and Kate. Luckily, as a veteran merc, Kate can take over any of the Guild's unfinished jobs in order to bring in money and build their reputation. But what Kate and Curran don't realize is that the odd jobs they've been working are all connected.
An ancient enemy has arisen, and Kate and Curran are the only ones who can stop it—before it takes their city apart piece by piece…
Review
One of the things I love most about this series are the countless one liners littered throughout any given book. Whenever I'm done I always find myself going back to collect my favorites so that I can include them in my review.  This book is certainly no exception.   In fact, I think it was better than the last book in that department.  Here are my faves:
"This would make sense," Curran said, "if I had no eyes to read it or no brain to understand it.  Did Raphael write this?"

"Curran, please don't bite his head off."
"Why?"
"Because it's illegal. Technically you assaulted him first when you threw him across the lawn."
"I didn't throw him very far." I rolled my eyes.
"I could've thrown him straight up and let him land on the pavement."
"That would also be illegal."

"Does everybody think I am an asshole?" Curran asked. "Only people who know you or have met you."
He looked at me for a long second.
"You were a zealous advocate of the Pack's causes," I said. "The Pack's interests are often at odds with human interests. I still love you. Derek still thinks you're the stuff."

"Your horse is a donkey, your poodle is a giant wolf breed, and your boyfriend is whatever the hell he is. You have problems."

Curran and horses didn't get along. He thought they were unpredictable and untrustworthy, and they thought he was a werelion.
Quite a few of those are courtesy of Curran and it didn't really occur to me until I started going over them.  There is definitely no shortage of screen time with everybody's favorite beast lord and he's one of the strongest characters of the book (not just physically of course). He's well-written, his relationship with Kate is well-written.  I don't see any fan of this pair finishing this book unsatisfied with their dynamic.  One aspect I did enjoy was that they got to be out for themselves this time.  Normally it's all about the pack.  And even in this book they don't completely cut ties. You don't go from being the alpha of alphas to nothing overnight.  They are feeling the effects of this transition and some things will never change.  But I did like at least getting a taste of what it's like for them to do their own thing for a little while.
The action overall was good though I must admit I am becoming less interested in the monsters.  It's starting to feel like more of the same there, but it's still an entertaining ride.  For me, this time around I was hoping we'd see more development with the Roland situation, but overall there wasn't very much.  At this point I think that will really move the plot further along as we reach the end.  I believe the series it supposed to wrap up in 10 books so we have 2 more to go. If it's heavy on the Roland subject to finish things out, I will definitely be a happy camper.
Fans of the series can't miss this one!
*Review Copy Provided by the Publisher
Giveaway
So I've got another one! Do you want a copy of my book? Well, you might be in luck!  One lucky winner of my blog will receive a copy of the novel! Just tell me your favorite thing about the Kate Daniels Series or if you're new to it what you're looking forward to.
How to Enter (PLEASE READ CAREFULLY): My giveaways are only open to followers of Your Urban Fantasy who are 18 years of age or older. In order to enter YOU MUST COMMENT ON THIS ANNOUNCEMENT POST AND INDICATE YOU HAVE DONE SO ON THE RAFFLECOPTER WIDGET! If you're a new member, sign up on the right panel to follow my blog via email. (Make sure to check your email to confirm your subscription. You should receive a notification immediately, so check your spam folder if you don't see it right away). Current followers can just say so in their post. The next four opportunities are for bonus entries. Overall, there are up to 5 chances to enter:
Follow this blog via email and comment based on my specifications mentioned before (THIS IS REQUIRED)
Like my review on Amazon  (bonus entry)
"Like" Your Urban Fantasy on Facebook (bonus entry)
Follow me on Twitter (bonus entry)
Tweet about the giveaway (bonus entry – you can do this daily for more entries)
The more entries the better your chance to win! Good luck! And don't forget to comment!  
The giveaway will run from 8/9/15 – 8/23/15. Good luck!
a Rafflecopter giveaway