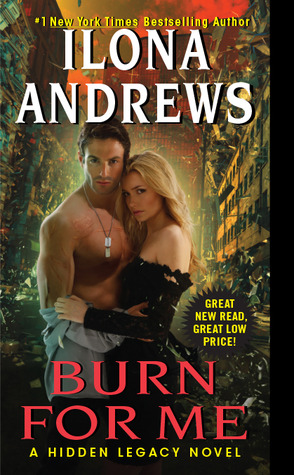 Synopsis:  Nevada Baylor is faced with the most challenging case of her detective career—a suicide mission to bring in a suspect in a volatile case. Nevada isn't sure she has the chops. Her quarry is a Prime, the highest rank of magic user, who can set anyone and anything on fire. Then she's kidnapped by Connor "Mad" Rogan—a darkly tempting billionaire with equally devastating powers. Torn between wanting to run or surrender to their overwhelming attraction, Nevada must join forces with Rogan to stay alive.
Rogan's after the same target, so he needs Nevada. But she's getting under his skin, making him care about someone other than himself for a change. And, as Rogan has learned, love can be as perilous as death, especially in the magic world.
Review:  I had a lot of fun with this one. To be honest I had my reservations somewhat because the cover is pretty romancey, if not a bit on the cheesy side.  I am more of an urban fantasy fan but I decided to give this one a go since Ilona Andrews is one of my favorite author teams.  Well, they certainly didn't let me down and in the usual Andrews fashion we're brought a fantastic level of world building along with good characterization and plenty of funny one-liners.  It doesn't feel cliche at all.  I enjoyed pretty much every page.  I think if you opened this book wanting pure romance you will be somewhat disappointed, but I think the sequels will probably do a better job of it.  And personally I prefer it that way. I'm more of a fan of the slow burn anyway.  This is a new ship I can really become invested in.
I like that Nevada and Rogan have distinct personalities.  Their chemistry is effortless and it's actually very well done for one book.  Several of my favorite ships take a little while to build it up to the point of where it feels natural. Rogan's back story is compelling and I think I would like to see a prequel at some point involving how he built the reputation he has through his military career. I'd love to get more sense of that character's motivations.  He's eye candy, yes, but there's potential for a truly dynamic character here if we get more throughout the sequels.  Nevada, I like her somewhat less at this point, but I wouldn't say I'm annoyed with her either.  It's just her naïveté that will certainly chip away given enough time based on the life she's chosen and the clear trajectory of where it's going.
I liked the various powers and their levels and how that becomes more of a currency than actual currency. A lot of value is placed on it, but those of lesser abilities have their uses as well.  All in all i finished the book really looking forward to the sequel and the further developments for Nevada and Rogan.  It's not insta-love and that makes it all the more interesting!
Giveaway
Alrighty! It's the first one of the year!  Do you want a copy of my book? Well, you might be in luck!  One lucky winner of my blog will receive a copy of the novel! Just tell me which Ilona Andrews series is your favorite, which book do you like the most and WHY (though if it's Magic Breaks don't say anything because I start that one next week :P). If you've never read Ilona Andrews before, that's okay too, don't be shy!  There's a chance you can win this and be enlightened by their greatness :P.
How to Enter (PLEASE READ CAREFULLY): My giveaways are only open to followers of Your Urban Fantasy who are 18 years of age or older. In order to enter YOU MUST COMMENT ON THIS ANNOUNCEMENT POST AND INDICATE YOU HAVE DONE SO ON THE RAFFLECOPTER WIDGET! If you're a new member, sign up on the right panel to follow my blog via email. (Make sure to check your email to confirm your subscription. You should receive a notification immediately, so check your spam folder if you don't see it right away). Current followers can just say so in their post. The next four opportunities are for bonus entries. Overall, there are up to 5 chances to enter:
Follow this blog via email and comment based on my specifications mentioned before (THIS IS REQUIRED)
Like my review on Amazon (bonus entry)
"Like" Your Urban Fantasy on Facebook (bonus entry)
Follow me on Twitter (bonus entry)
Tweet about the giveaway (bonus entry – you can do this daily for more entries)
The more entries the better your chance to win! Good luck! And don't forget to comment!  
The giveaway will run from 1/13/15 – 1/25/15. Good luck!
a Rafflecopter giveaway