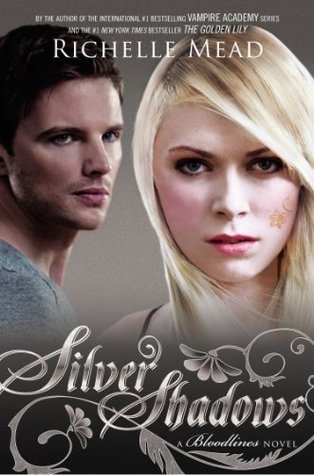 Synopsis:  In The Fiery Heart, Sydney risked everything to follow her gut, walking a dangerous line to keep her feelings hidden from the Alchemists.
Now in the aftermath of an event that ripped their world apart, Sydney and Adrian struggle to pick up the pieces and find their way back to each other. But first, they have to survive.
For Sydney, trapped and surrounded by adversaries, life becomes a daily struggle to hold on to her identity and the memories of those she loves. Meanwhile, Adrian clings to hope in the face of those who tell him Sydney is a lost cause, but the battle proves daunting as old demons and new temptations begin to seize hold of him. . . .
Their worst fears now a chilling reality, Sydney and Adrian face their darkest hour in this heart-pounding fifth installment in the New York Times bestselling Bloodlines series, where all bets are off.
Review:  I came in prepared not to really like this book. I thought we'd get a ton of drama in order to set up for a satisfying resolution in book 6.  And considering how amazing The Fiery Heart was (it still gives me the feels if you're wondering)

let's just say that to top that book for me would have been a very tall order.  There were definitely things to like about this book.  Once again we're treated to both Adrian and Sydney's points of view.  Sydney's resolve is refreshing and it's just epically amazing how much she and Adrian rely on each other for strength.  He's a lost puppy without her but turns into an amazing character with her. They are the definition of being the better half of each other and Mead has done a great job of building them up without it becoming overly saccharine. It's the big difference between having a whole series to develop a relationship as opposed to one book.  And because of that certain developments that would normally irk me felt right.  I won't say much more but I promise the developments are huge, though not completely out of left field.
I did miss the presence of Jill and the others but I understood that it would be difficult to focus on their problems in this book. But because of that the tone felt so different to me and I didn't know if it was for the better until later in the novel.  Sydney had to rely on what she's learned up until now without the support of her witch teacher, Ms. Terwilliger so we really see her begin to grow into her own when it comes to her powers.  Adrian ups the ante too with his magic use, pushing himself to the limits.  I felt there were a couple of missed opportunities for the consequences of him pushing himself that far though.
Other than that, the pacing of this book was a little off for me.  More or less, I would have preferred what happens at the 70% mark to have started at the 50% mark if not a little sooner.  By that point I couldn't put the book down and was left wanting so much more.  But now we have to wait and I don't wanna!

Though the plot for this book wraps up we do get a major cliffhanger that appears to be the plot of the final installment. Before the 70% mark I was thinking of giving this one a 4, but I just can't after that point. So I can say it's a 4.5 and round up.  This series is still firmly in my #1 favorite YA/NA series spot.  Though I am not crazy about the cover design of this one or the 4th book, and I don't know what happened since the first 3 were really nice.
Next up is the final Lux novel which happens to be my second favorite.  So I'm on a roll and don't stop me now!
If you're on Amazon and Goodreads, please feel free to like my reviews there!