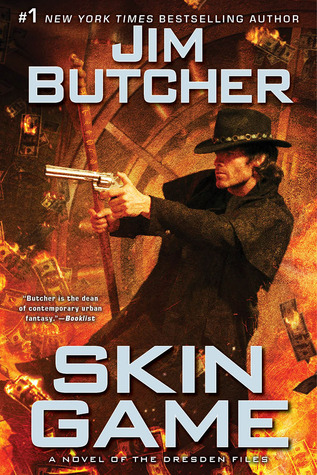 Synopsis: Harry Dresden, Chicago's only professional wizard, is about to have a very bad day….Because as Winter Knight to the Queen of Air and Darkness, Harry never knows what the scheming Mab might want him to do. Usually, it's something awful.  Mab has just traded Harry's skills to pay off one of her debts. And now he must help a group of supernatural villains—led by one of Harry's most dreaded and despised enemies, Nicodemus Archleone—to break into the highest-security vault in town so that they can then access the highest-security vault in the Nevernever.
It's a smash-and-grab job to recover the literal Holy Grail from the vaults of the greatest treasure hoard in the supernatural world—which belongs to the one and only Hades, Lord of the freaking Underworld and generally unpleasant character. Worse, Dresden suspects that there is another game afoot that no one is talking about. And he's dead certain that Nicodemus has no intention of allowing any of his crew to survive the experience. Especially Harry.  Dresden's always been tricky, but he's going to have to up his backstabbing game to survive this mess—assuming his own allies don't end up killing him before his enemies get the chance…
Review:
My favorite quotes:
"I can't tell you how many jobs I've done without a hitch since the last time I saw you, Dresden. You walk through the door and everything goes to hell.""That's embroidered on my towels, actually," I said.

""What you are telling me," she said, "is that you have never shared your life with another over the long term. The closest you have come to it is providing a home and affection for a being which is entirely your subject and in your control."
"Well, not at bath time…"
"I know you've been aching to have your hands on my staff," I said to Ascher, as Nicodemus examined the altar for himself. I held out my hand. "But I'd rather be the one fondling my tool. Wizards are weird like that."
PARKOUR! Because Harry Dresden says so.

Cold Days was easily one of the best entries of the Dresden series. It's probably my favorite.  And it definitely left big shoes to fill for any book that would follow it.  Well, Skin Game does it wonderfully.  I was hanging on to every word.  The tension between Harry and Nicodemus was beyond palpable and I kept waiting for the shoe to drop! And boy does it drop.
This book was really exciting, gripping, and a true nail biter.  I wasn't sure where Butcher planned to go with this one putting Nicodemus front and center. Either we'd finish the book with a better understanding of the character (potentially liking him more) or we'd see Harry do away with him once and for all. He is definitely a character you love to hate.
The heist plot was great and we got to see more focus on potential future players in the series. I liked that everyone was out for themselves since it kept things unpredictable.
I did miss Thomas in this entry as well as Molly, but the story is still fantastic.  We get a great deal of Murphy, Michael, and Butters to make up for it so that's good enough for me.  There were some really great twists and turns and several characters get upgrades in power.  One of my favorite aspects of any series are the strength of the relationships.  Harry never has it easy, ever. You really feel for the guy.  While Cold Days certainly had emotional moments, there are some pivotal developments here too that make his journey even more special to me.
I am a newer fan of these books having marathoned the entire series back to back this year.  Admittedly a lot of the story blurs together for me so it's difficult to distinguish one book from the next (save for books like Changes and Cold Days). Of course that stops now since I'm all caught up with everyone else. But I will say that I am glad it happened with this book because it was a particularly satisfying read!
Harry juggles plenty of hats as it is, but I'm looking forward to how he handles just a few more in the next entry.
Oh, and…PARKOUR!!!
*Review copy provided by the publisher.
Giveaway
I promise the hardcover is even shinier and prettier in person! So now that you've read my review are you looking forward to having a copy of your own?  Well one lucky winner of my blog will receive an ebook or hardcover version of the novel! All you have to do is comment and tell me what you're most looking forward to in this book.
How to Enter (PLEASE READ CAREFULLY): My giveaways are only open to followers of Your Urban Fantasy who are 18 years of age or older. In order to enter YOU MUST COMMENT ON THE ANNOUNCEMENT POST AND INDICATE YOU HAVE DONE SO ON THE RAFFLECOPTER WIDGET! If you're a new member, sign up on the right panel to follow my blog via email. (Make sure to check your email to confirm your subscription. You should receive a notification immediately, so check your spam folder if you don't see it right away). Current followers can just say so in their post. The next four opportunities are for bonus entries. Overall, there are up to 5 chances to enter:
Follow this blog via email and comment on your preference to win the 

ebook

or

hardcover

(THIS IS REQUIRED)
Like my review on Amazon (bonus entry)
"Like" Your Urban Fantasy on Facebook (bonus entry)
Follow me on Twitter (bonus entry)
Tweet about the giveaway (bonus entry – you can do this daily for more entries)
The more entries the better your chance to win! Good luck! And don't forget to tell me what you're most looking forward to in this book! 
The giveaway will run from 5/27/14 – 6/8/14. Good luck!
a Rafflecopter giveaway